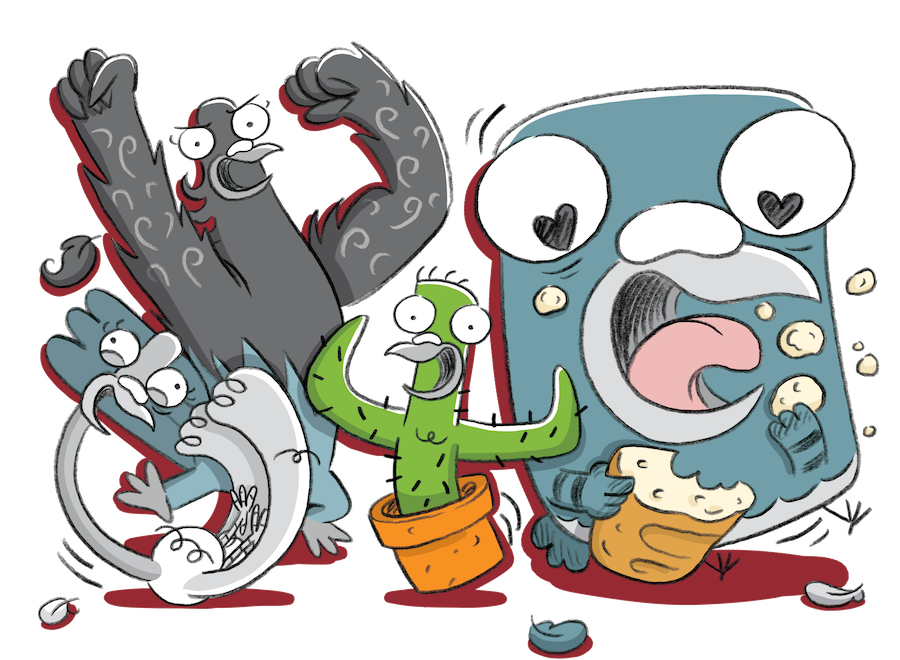 Why do pigeons always act so weird? Because they're out there chasing the bad guys and saving your butts!
Welcome to the official Real Pigeons website!
A celebration of the bestselling books by Andrew McDonald and Ben Wood
---
Real Pigeons Flap Out
Get ready to flap out because your favourite feathery crime-fighters are returning in book 11!
Real Pigeons Flap Out will be released in Australia and New Zealand on November 1st 2023.
---
Subscribe for pigeon coos
Get the latest Real Pigeons news, book announcements, cover reveals, activities and giveaways delivered to your inbox.
"Perfectly absurd" – Booklist
"A goofball farce…young readers will make quick work of them all" – Kirkus Review
"Perfect for emerging readers who want action, hilarious hijinks, and crime-fighting mysteries" – School Library Journal
The Super Coo Club
Join Andrew and Ben in The Super Coo Club for a series of videos celebrating writing, drawing and pigeons! Watch as they share writing and drawing tips – and talk about how they created Real Pigeons! Plus there are creative challenges for kids and activity sheets to download. Super coo!
About the creators
Andrew McDonald is the author of the Real Pigeons series. He loves writing stories that make kids laugh, gasp, think and wonder. He lives in Melbourne, Australia and enjoys baking his own bread, which he eats down to the last breadcrumb (sorry pigeons).
Ben Wood is the illustrator of the Real Pigeons series and has always been drawn to books with humour and heart. He loves drawing, eating food and drawing eating food.